Master Construction - References
October 30, 2013

To whom it may concern,

We recently completed a major remodel of our home in Tucson, Arizona. This was a total redo of the existing structure, down to the studs and slab. This daunting task, was further complicated by the fact that we were working full-time in a different state, and were only available for occasional visits to the worksite.

Fortunately, we chose the exact right contractor, and company for the job. Master Construction began work and completed the job exactly on schedule. The contract amount did not change, despite some surprises, throughout the entire course of construction. There was one major discovery related to the slab, that was unknown, and it was dealt with, quickly and fairly, and did not delay the schedule.

Chip Pique, the owner of Master Construction, is not only a consummate professional and craftsman, but a down to earth person, who is easy to work with. We were kept apprised of every segment of the job as it progressed. We received weekly e-mail updates, with photos. Though we were far away, we were relaxed and confident, that everything was being handled properly, and we had nothing to worry about.

Chip is extremely well-connected in the city of Tucson. He personally brought us to all of his suppliers, and worked with us directly in our choices. This allowed for great saving of both time and money.

In conclusion, this was one of the smoothest and least stressful building projects we've ever undertaken. This was due to Master Construction's experience, expertise, creativity, integrity and commitment to service to their customers.

Finally, we would recommend this company and contractor to anyone who is either remodeling or building a new home. Occasionally in life, you find a company that cares about their clients, and is willing and able to resolve all issues for them, communicate clearly, and bring the job in, on time and on budget. This is one of those companies. And we are happy to recommend them without reservation.

Ed and Marlena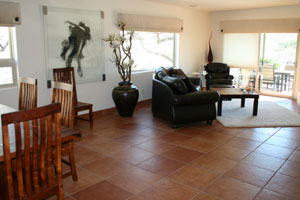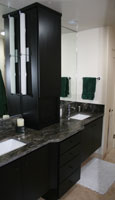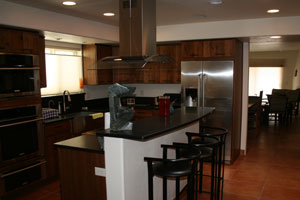 ---
March 21, 2008

Dear Chip,
I want to thank you and your crew for the recent completion of the casitas renovation project. This was one of the smoothest projects that I have worked with contractors to complete, This was a great team effort displayed when needing to be flexible with the schedule we provided and the need to work around our occupancy. Thanks again and perhaps we can do more work with you and your company in the future.
Sincerely,
Tom Kibler
Hilton El Conquistador
Golf & Tennis Resort
---
11/2009
Chip, I want to thank you and your team for doing the project at my house so very quickly. Not only did you start within a day or two of our finalizing details, but you started the project on Friday morning and finished on Sunday night, which made it far less inconvenient for us to have to find another place to live during the demolition and construction. I have not yet had a chance to inspect the inside of all of the work, but I developed a high level of trust and confidence in you and your staff. The physical appearance is amazing and everything was done precisely how I expected it to be, including some one-off requests that I had made. We are thoroughly enjoying our newly remodeled living room and kitchen and want you to know that we would not hesitate for one second to recommend you to a friend.
At the time that we engaged your services, the entire construction and remodeling industry was in a significant slump. You offered me a price that could not be beat, and I respected your reason for doing so. You told me that, even if it was not profitable it ensured that you had reliable work for your team and that keeping them employed had value to you in and of itself. I admire that quality in a manager and business owner.
If you would like to use me as a reference, please feel free to do so.
Garrett K.
---
2008
To Whom It May Concern:
Old Master Construction recently renovated our older home. Before our purchasing it, the house had suffered years of neglect by being split int two rental untils. Chip and his crew were excellent and we highly recommend them. Thier work was always high quality and completed on time. They all had great pride in thier work and took a personal interest to insure everything was done right. Most important, however, wwas thier feeling for the old house. In many instances they went beyond waht was expected to include details that "just should be there" - those little things that make a big difference in the end. In renovation you will always have 'surprises' - and we had out share. But Chip and his crew offered great suggestions - and there was never a disagreement of issue about cost - it always seemed very fair. We greatly enjoyed interacting with the crew - it was a joint effort that resulted in a beautiful home, with which we are very happy.
Again, we highly recommend Old Master Construction.
David Mountain and Alicja Mann
---
April 27, 2007
Dear Chip,
We are thoroughly enjoying our "new" house!
We appreciated all the fine remodeling work done by your capable crew and your subcontractors. We were impressed that your crew was on the job at 7 am every day – plus some Saturdays! We also appreciated your presence every morning to keep the project on track. Your suggestions were helpful and timely while still being open to our ideas. And your completion date was 3 months – as promised!
Old Master Construction made our 1st ever-remodeling project a rewarding and fun adventure! Thanks for doing such a great job for us!

Sincerely,
Stu and Tornie MacKay
---
Click here to read an article about old master construction.

---
9 September 2004
To Whom It May Concern:
It is a pleasure to write this letter in support of Old Master Construction. My experience with Old Master was the most reliable, efficient, and caring of all the remodeling experiences that I have dealt with. The work was absolutely first-rate, attention was given to detail, the job was done on time, and there was never any quibbling about the last minute details that finicky home-owners like myself always have. I recommend Old Master without reservation.
Rick Brusca
Executive Director, Arizona-Sonora Desert Museum
---
September 10. 2006
Dear Chip:
A note of appreciation for the work performed by you, your crew and subcontractors on our home remodel project. It was a major remodeling job and the work was performed in a manner and schedule that was agreed to at the start of the job. The work was completed in a professional manner and we are very proud of our home. It was fun to work with you and your crew. Please free free to use us as a reference.
Sincerely,
Lawrence Jentgen, P.E.
---
December 27, 2002
I wanted to send you a brief note to let you know what a pleasure it has been working with you and your crew.
The kitchen window you replaced with a beautiful energy efficient door and side window looks terrific. And the addition of a carport/storage area to our home is perfect.
It's not uncommon to hear stories about working with a contractor. But I couldn't be more pleased and impressed with the way you handled my two projects.
You are a true professional. I was impressed with the way you anticipated the needs of both jobs and went that "extra step" to ensure they would be completed quickly sacrificing quality workmanship.
Your bids where both accurate and reasonable. Your crew was courteous, totally professional and I was impresses with how they handled both projects with skill with their diligence in cleaning up the work site everyday.
But most important of all was the pleasure of working with you. Though young, you truly have earned the right to call your company "Old Master Construction" because you bring to every project the quality and personal attention that only an "Old Master" can deliver.
Thank you for a job well done.
Respectfully yours,
Jeffrey Allen Keith
---
August 4, 2003
To Whom It May Concern:
You would be hard pressed to find a better man or company for your remodeling purposes than Chip Pique and Old Master Construction. We had the "contractor from hell" working on our adobe addition, when he abandoned that project.
Contractors are understandably reluctant to step in the middle of a project: however, Chip not only took the job, he was everything our first contractor was not: professional, knowledgeable, skillful, communicative, and courteous, and his employees and sub-contractors were timely, hardworking, and cleaned up at the end of each day.
Old Master rectified the situation, by bringing the shoddy workmanship up to code, and then finished the addition to our complete satisfaction.
We wish Old Master had been recommended to us in the beginning, as we're recommending Old Master to you now.
Do yourself a favor...avoid the headaches and lost time a bad contractor can cause, and go with Old Master today.
Respectfully,
Dana Lim
Homeowner
---
December 2, 2002
Dear Sirs:
Master Construction was selected as the trim carpenters for our four million dollar custom home in Stone Canyon in 2001-2002. In addition to finish carpentry, we came to rely on their wide range of skills and expertise in so many other areas. They always brought a proficient, creative approach to all situations.
Their work was extremely professional and consistently excellent. The entire crew was well spoken, solution based and very hard working. They were always available to accomplish any tasks, and go the extra mile to meet any required deadline.
In short, their conduct and craftsmanship were impeccable. We will be utilizing Old Master construction on our upcoming projects. We are confident in recommending them to all perspective clients.
Please feel free to contact me for a personal recommendation.
Sincerely,
Dan Couturier
Madison Couturier Custom Homes
---
October 25, 2002
To Whom It May Concern:
It is our pleasure to make a few pertinent remarks concerning the quality of work that Old Master Construction exhibited while working on our project. It is evident that Chip and his crew took great pride their work.
There are always challenges in every project and there are always other options. Due to Chips' years of experience in the construction business the suggested options to those challenges worked well. Their expertise in all aspects of the construction process is impressive.
Chip does an excellent job of communicating with his clients as well as his crew. He has clear objectives and they are accomplished. When Chip bid our job there were no hidden costs or added expenses that we highly previously discussed. Working with Chip is a very pleasant experience and we highly recommend him to anyone who is contemplating any kind of construction. His integrity is impeccable.
Please fell free to call us if you have any questions. We would be happy to discuss how pleased we were with Old Master Construction.
Sincerely,
Dr. J. Ray and Karlyn Rokey
---
Residential Clients
Karlin Rokey
Interior Design/Custom Entertainment Center
John Beach
Remodel/Alterations Home and Apts.
Henry & Ann Foresman
Remodel/Alternations Home
Pat Branon
Kitchen/Den/Living Room Alterations
Jeff Keith
Garage Addition / Interior Alterations
Vanessa Radford
Kitchen/Room Addition
Robin & Lynn Feld
Jacuzzi Tub & Custom Door
Long-term Clients
Ellen Lewis
Kitchen/Interior Alterations
Bill & Ruthann Pitts
Various Residential & Commercial Projects
Tom Schramski
Various Construction Projects
Dr. & Melinda Kay
Residential & Commercial Projects
Commercial References
Dean Butler
Prime Installer Southwest Door Co.
Rick Raber
KHS&S Casino Del Sol Project
Nick Cajero
Raytheon-Remodel Lunch/Break Room
Rick Brusca
Executive Director, Arizona-Sonora Desert Museum
Rick Luker
Supervisor for Madison Couturier Custom Homes, National Builder of the Year